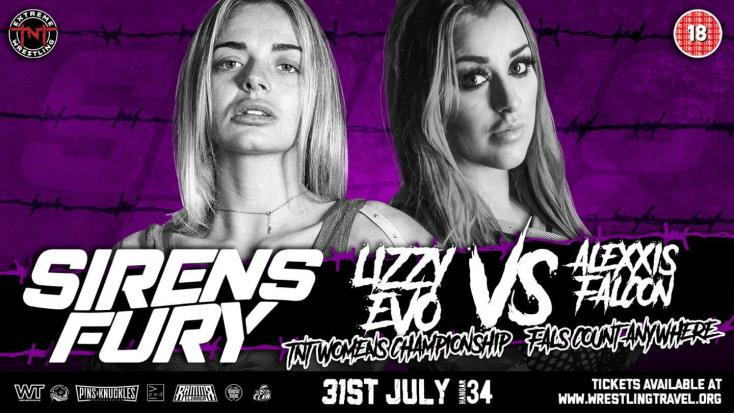 Siren's Fury - 31st July - Hangar 34
Published
At Siren's Fury we have a plethora of matches for you to sink your teeth into.
LIZZY EVO V ALEXXIS FALCON - TNT WOMEN'S CHAMPIONSHIP - FALLS COUNT ANYWHERE
The ring couldn't contain the fury of Lizzy Evo and Alexxis Falcon.
It took several members of TNT staff to try and subdue the fury of Lizzy Evo and Alexxis Falcon and it still couldn't be stopped.
At Siren's Fury they meet one more time to continue the war that was started at Going Off Big Time, however this time the ring doesn't need to contain them.
This time it is Falls. Count. Anywhere.
Will The Liverbird Lizzy Evo be able to retain the highly coveted TNT Women's Championship?
Will The Iron Queen Alexxis Falcon realise her goal and ascend to the throne?
SHE WOLVES IN ACTION
The She Wolves, Molly Spartan and Kasey Owens, will be on the prowl the night after Total Carnage. No matter what destruction and chaos they will have caused the evening before, the two wolves will be here to celebrate or cause misery depending on how they fared. Even if one of these women won the Total Carnage Tournament, they will still be looking to pick a fight with anyone who looks at them the wrong way.
Who will The She Wolves be taking on?
RAVEN CREED V AURORA TEVES
One night after Raven Creed steps into Total Carnage she will be facing a new face on the Liverpool scene, Aurora Teves. Teves has quickly become a firm favourite with her recent appearances across the North West and even though the Toronto native came up short in her TNT debut against Alexxis Falcon at IGNition, she won over the fans with her offense.
Creed has already informed TNT though that she will be inflicting pain wherever and whenever she goes, the Soulless one will surely be frenzied still after her participation in Total Carnage, she may even be going into this challenge with the momentum of winning the whole tournament!
Who will win this international contest fought on Liverpool's shores?
PRETTY LITTLE KILLERS V GIA ADAMS AND TAONGA
The Pretty Little Killers: Ruby Radley and Ivy are bringing themselves (and their trusty bats) to TNT. They've already made their mark around the country and now they're here to make a stand at Siren's Fury.
Standing in their way; the team of Gia Adams and The Ultimate Diva, Taonga. We know that Gia will 'Fight Anyone and Everyone' and Taonga has enough sass for the whole TNT women's division!
Will the brute force and wits of Adams and Taonga be able to match the well-oiled machine of the Pretty Little Killers?
LANA AUSTIN RETURNS
Over the past 18 months Lana Austin has been running in a pack with the She Wolves, however that came to an end at Going Off Big Time when Kasey and Molly had enough of Lana trying to help and seemingly ejected her from their clique.
At Siren's Fury, Lana will return to action. Will she be able to show the Wolves that they made a mistake and that she should still be with them?
GET YOUR TICKETS NOW