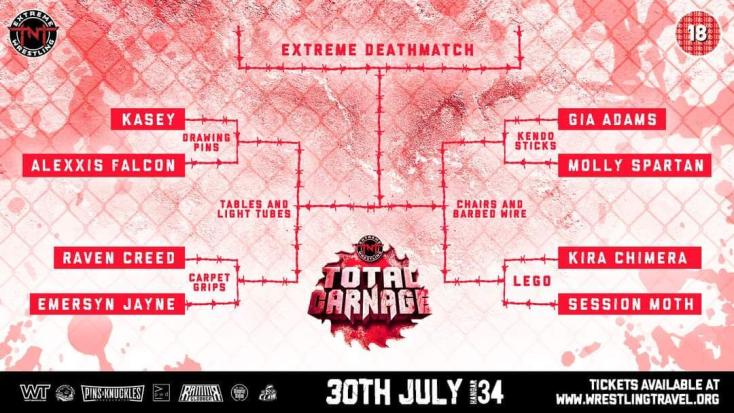 Total Carnage Matchups and Stipulations
Published
Our brackets are set and we need to announce our matchups for Total Carnage.
First up, the current number one contender, the Iron Queen Alexxis Falcon, taking on the Mother of Chaos Kasey Owens in a Drawing Pins Deathmatch.
Throughout this we're sure both competitors will end up in a sticky situation as they try to avoid the sharp, stabbing sensations of thousands of pins piercing their bodies.
Carpet Grips are the weapon of choice in our second matchup for Total Carnage.
Emersyn Jayne, The Main Event Empress will take on the Soulless Raven Creed.
Creed is known for being able to tolerate high levels of pain and she loves dishing it out, but will Jayne be able to use her skill to overcome the Soulless one?
When you think of classic hardcore weapons, surely Kendo Sticks must be up there as one of the most memorable?
Well, at Total Carnage, they will be memorable as two warriors will swing away as Molly Spartan takes on Gia Adams in a Kendo Stick Deathmatch.
The cracks will be loud and the welts will be large. One of these women will go through to the semi-finals and the other will walk away (if she's able to) with nothing but pain and suffering.
Finally Kira Chimera will take Session Moth Martina on in possibly the most sadistic opening round match... lego deathmatch!
Semi Final 1 will be Light Tubes and Tables and the 2nd will be Barbed Wire and Chairs.
Whoever makes it to the end has one final Extreme Deathmatch to become Queen of Extreme.
Available on the door: VIP Standing: £40 - 4:30 doors Standard General Admission: £25 - 5:30 doors.